Over the top
'I enjoy paintings where there's always something new to discover. That's why there's so much going on in my work. I like to go a bit over the top', Ben Sledsens says as we view his most recent canvas in his studio. It's a fresh landscape, dominated by a paradisiacal waterfall. 'I've just been to Bali. Travelling does wonders for your creativity. When I got back, I set this down in a week. It's based loosely on a photo I took of a waterfall in Bali. The nature there is overwhelming. But there's a huge amount of tourism too. It was a bit busier at the waterfall than in my painting.'
You said in previous interviews that a photograph of nature is always doomed to fail.
'Nature gives you the experience of authenticity. A photo can only ever document that experience and can never capture it entirely. Paintings are an experience in themselves. The authenticity is there. Even if what they depict doesn't exist.'
Focus on beauty
'Dreamworld', 'utopia' – those are the kind of words that are often applied to your work, which really resonates at a time when the world can sometimes feel harsh and ugly.
'This is a strange moment in history. But so much has already been said and done about that. In art, in the media. You're confronted with it constantly. I don't have much to add. So I try to make something beautiful. An escape, a utopia. If you look back at this a hundred years from now, it will be interesting to see alongside the doomsday images of our present period. There are still amazing things in this harsh world. Nature is unbelievable and always beautiful. You can find beauty everywhere, if you look in the right way.'
Colour is an important element in your art. How do you arrive at your colour schemes? Are they carefully thought out or more intuitive?
'I paint with my feelings, but I think about things a lot too. People often underestimate how many choices you have to make to arrive at a finished painting. It's hard work finding an honest image that speaks to you. Every touch, every colour is a deliberate choice. So it's certainly not intuitive: I think too much about it for that. The painting itself also decides a lot. I begin with a sketch, at which point I have a vague idea of the colours in my head. But I can only truly see it as I work. One colour tells you that you now need something else, in another colour. The work builds itself up in that way. It's a dialogue between me and the canvas.'
Pilgrimage by iPhone
Art history is an important source of inspiration for your work.
'I've learned that creativity begins with looking. Art history has been shaped by generations. What we make now wouldn't be possible without what went on before. I explore those generations, find the things that inspire me and draw on them for my own work. Thanks to art books and the internet, I can be influenced all the time. That's a real privilege: in the past, you had to make a pilgrimage to Italy to see the great masters; now you just need your iPhone.'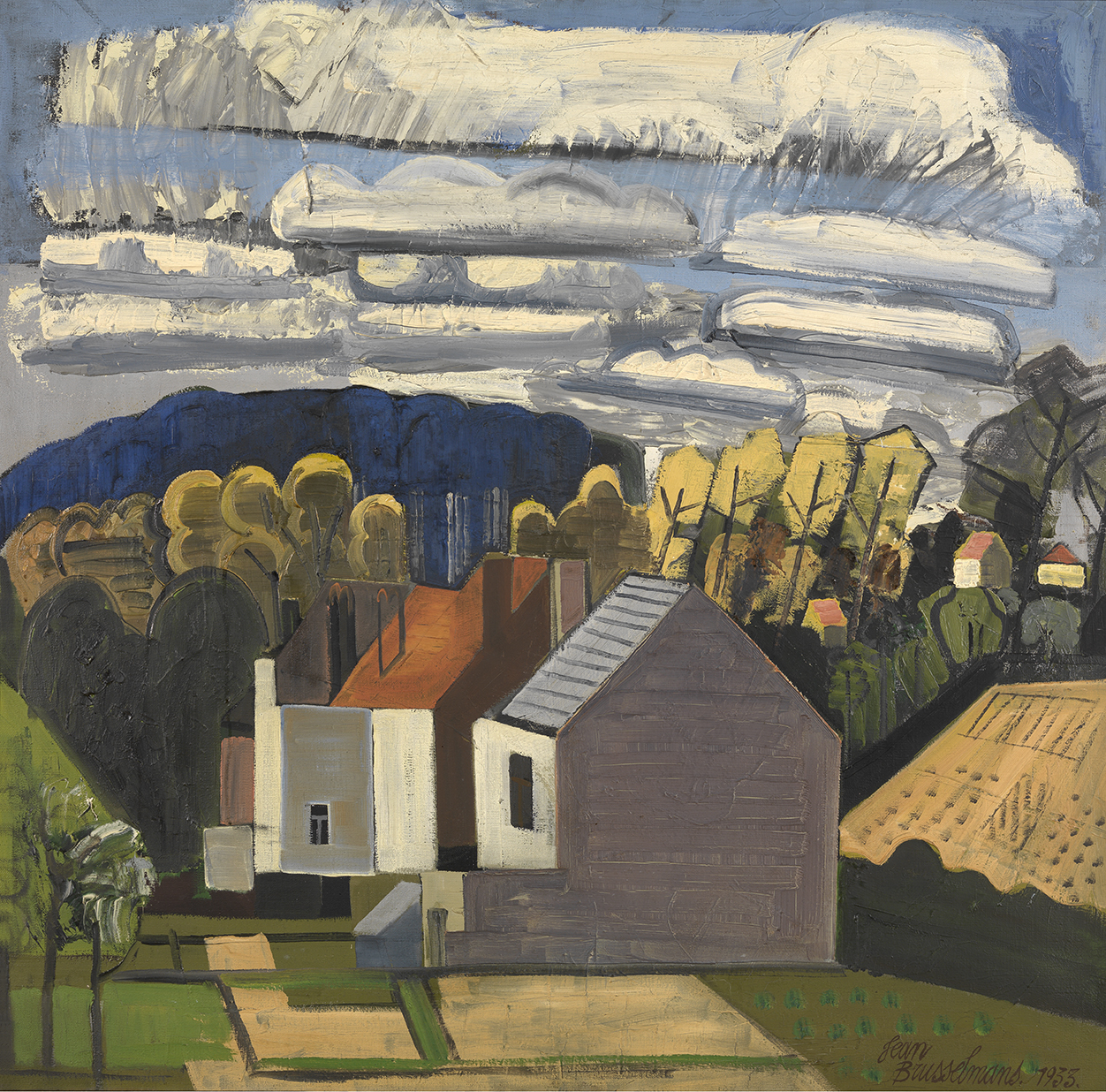 Matisse, Henri Rousseau and Bruegel are important examples for you. Who else stands out?
'It changes all the time. A few weeks ago, it was Monet. The way he worked with landscape, his touch, his colours. There are a lot more artists I could mention: Permeke, for example. Or Alechinsky. But Bruegel is one of my favourite painters. He was modern and traditional at the same time, a true pioneer. The way he looked at a landscape was unbelievable. Bruegel painted folk scenes you can lose yourself in. From a technical point of view, his work is fantastic. The things he did would still work in a contemporary art gallery. He's less bound to his time than Rubens, say.'
Which works from the KMSKA collection do you find inspiring?
'That's a tough question. The museum was already closed by the time I started at the academy. Normally, we would have gone to the KMSKA to draw the works. But because of the renovations, we had to take the train to Ghent every Friday. If the museum had been open at that point, the collection would have had a huge impact on me. I can't wait for the reopening.'
In the meantime, you can take out your iPhone and scroll through our collection digitally.
'I'm particularly looking forward to seeing Brusselmans. I think he's a bit underrated as an artist. His work is really good. The way he distorts nature, it's so graphic. I find that view from his studio absolutely beautiful. He's a landscape painter who remained true to his craft. Look at how he distorts things and gets away with it. And then there's Ensor, of course: the Godfather of Flemish painting. He opened up so many paths. And he was the first to really start working with colour. I admire Ensor for his free touch. You can see it in the drawing The Cuirassiers at Waterloo, for instance. So organic; it's amazing. I like his early work, too. When you think about where he started and where he ended up... the evolution is huge.'