Collection
Innovative experimentation with Erasmus
Keen not to miss a single thing at the new KMSKA? Or do just want to stroll around with your family? Looking to share a unique experience with your friends? For some next-level #selfietime? Or maybe you prefer to let the masterpieces speak for themselves? KMSKA wants to meet all these expectations, but how exactly? We turned to the digital makers of the future for some fresh ideas.
Professional Bachelor's Degree in Multimedia & Communication Technology at Erasmus University College Brussels
Creativity. Technology. Cool Stuff.
This course teaches students how to create multimedia applications including apps, websites, Virtual Reality games, motion graphics and interactive projections. Each semester is rounded off with a full project – from concept to completion – commissioned by real clients. As a cultural entrepreneur, the KMSKA didn't hesitate to get involved with this innovative experiment.
Six teams of second-year Multimedia & Communication Technology students got down to work with our collection. Backed up by intensive coaching from multimedia and design experts and targeted feedback from the museum, they wasted no time in developing some surprising tools based on Artificial Intelligence (AI) and the Internet of Things (IoT).
AI and IoT
Artificial Intelligence (AI) refers to systems that respond to data or to cues from their surroundings, which they then use as the basis for autonomous decisions. The Internet of Things (IoT), meanwhile, is made up of all devices that are connected to the internet and can communicate with each other. The students used input from the KMSKA to test how AI and IoT might amaze, enrich and connect museum visitors even more.
The end results
1. No more choice overload: Locators
This route generator creates instant tours based on the interests of an individual visitor or even a whole group. The digital guide then leads you smoothly around the custom-created circuit.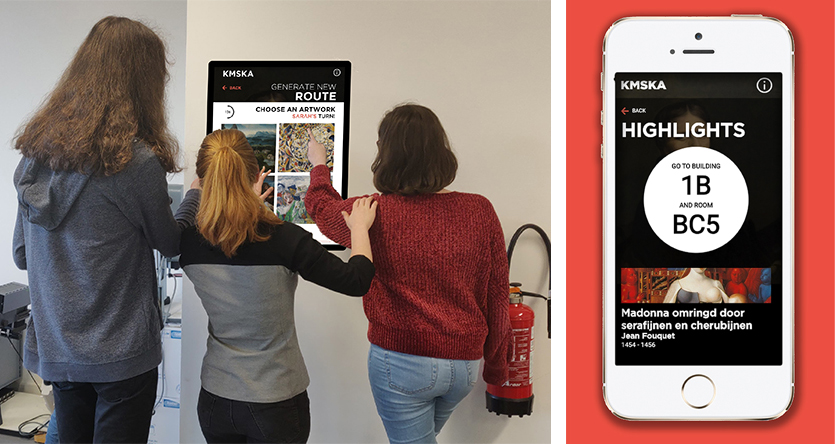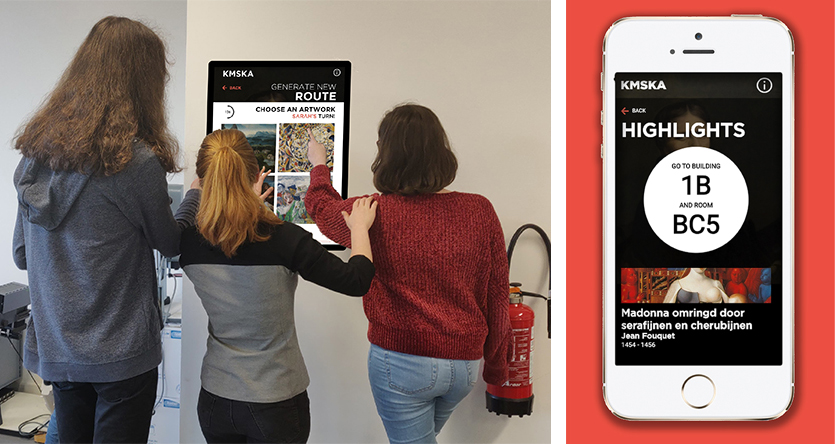 2. Info on demand: Quiz
How do you fancy talking to an art-loving chatbot? Not only does it know everything, it also has a great sense of humour and even asks interesting questions of its own. It's your ideal buddy when strolling through the galleries.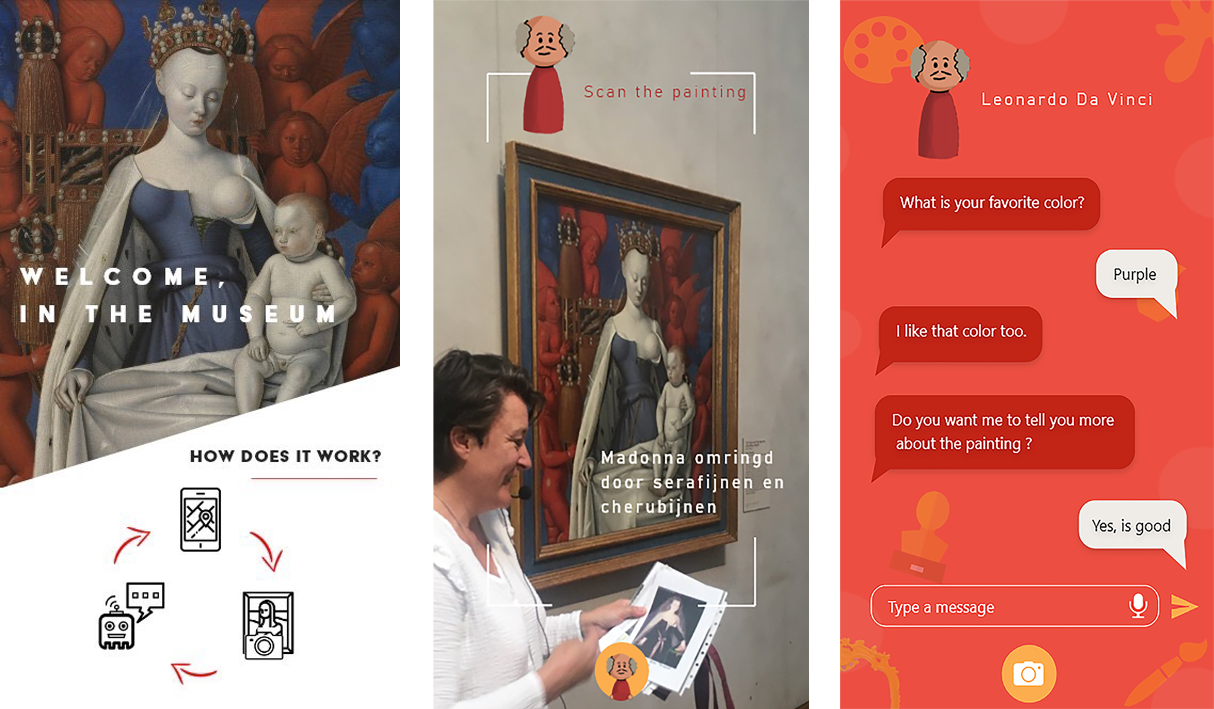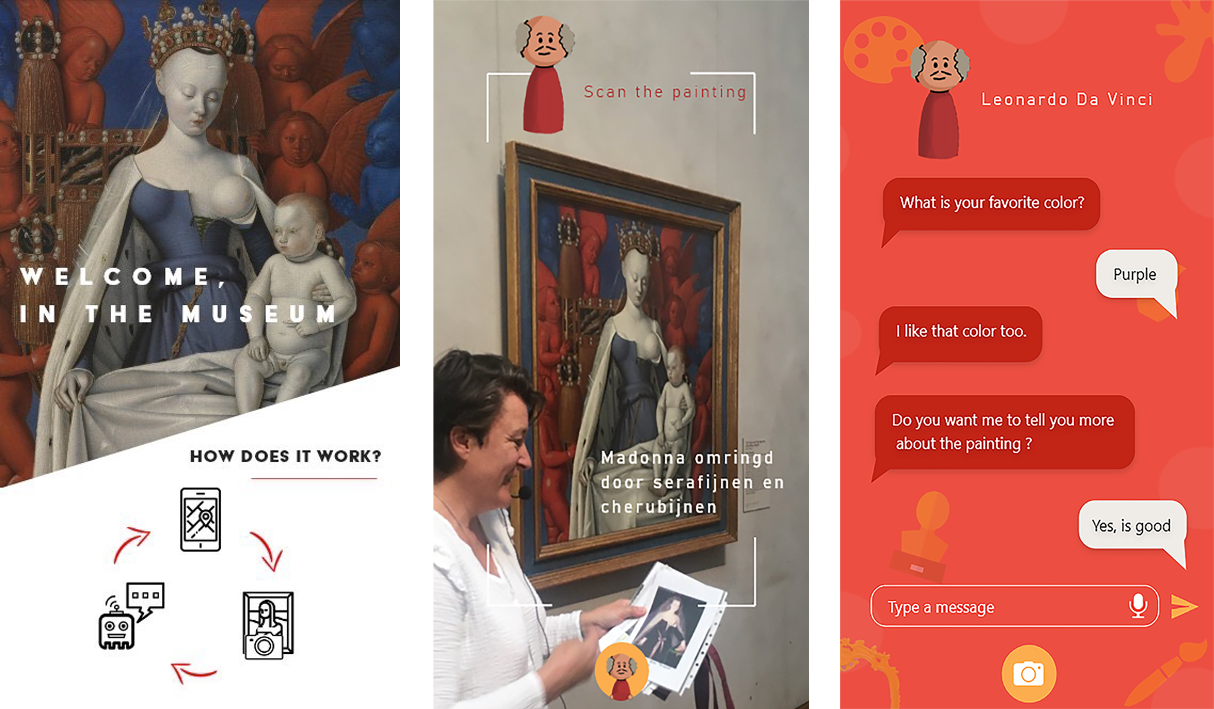 3. Info on demand: KMSKAN
Scan de werken die jou nieuwsgierig maken en beluister de verhalen op je smartphone. In voor wat meer actie? Doe mee met de quiz! Niets moet, alles mag.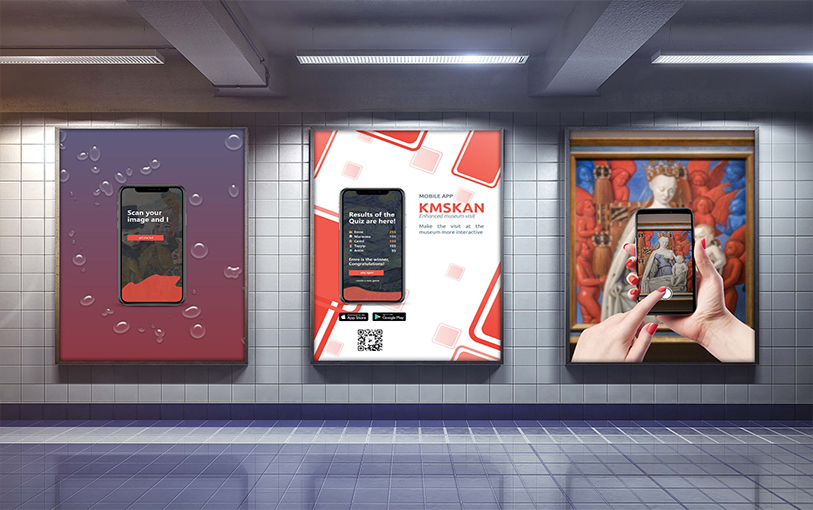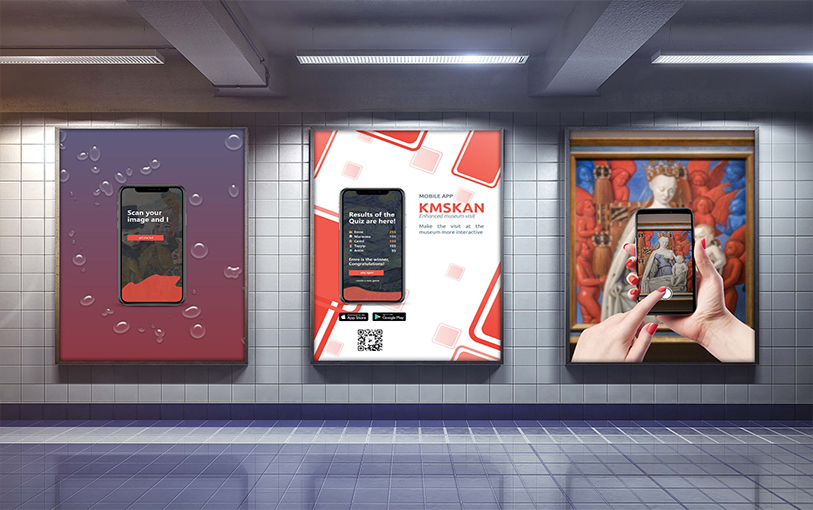 4. Personal connection: artme
How about a pimped profile photo as a highlight on your entrance ticket or your social media wall? This state-of-the-art face-swap app ingeniously imitates the style of our masters. Maybe you could be the new face of the KMSKA?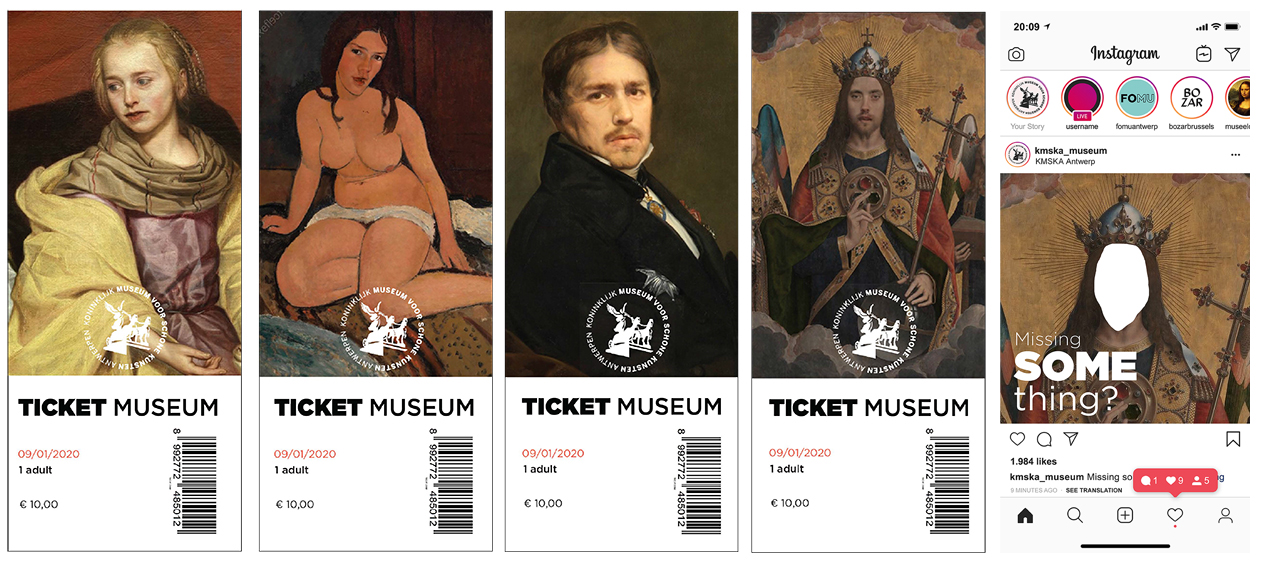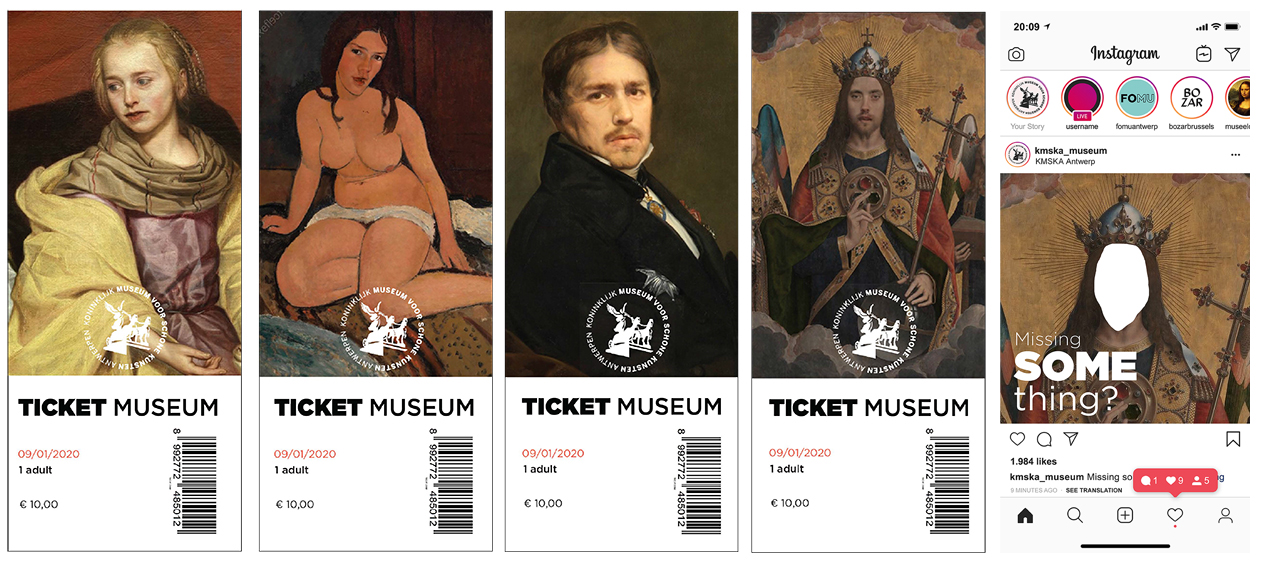 5. Personal connection: Jamesensor
Go to town on a virtual canvas: by moving your hands and arms, you can create your own masterpiece using different colours and techniques. Jamesensor then searches our collection for the work that best matches your creation.
6. Experience the KMSKA: Proximity
Ensor entrée
Through the magic of Augmented Reality on your smartphone, James Ensor emerges in person from your entrance ticket to welcome you and guide you round his exhibition.
To animate James Ensor realistically, the Proximity team worked with MOCAP (motion capture) in the MediaLab at Erasmus University College. Using a suit covered in sensors, a historical character can be brought to life virtually.
Ensor à proximité
A soundscape that swells up or fades away puts you in the right mood and guides you intuitively to the next work of art.
Ensor masqué
And what will you take away with you? Ensor was the king of masks, a title he shares with Instagram. So get sharing those masks!
Ensor animé
A great work of art speaks for itself, doesn't it? Thanks to AI, The Intrigue can now talk to you in person. Intrigued? Ensor certainly would be…
Ensor animé
An animated version of The Intrige
Thanks to all the young makers
Keep pushing at the limits and bringing the most out-there ideas to life. You're the makers of the future.
artme: Brent Carton, Mathieu De Pauw, Jules Docx, Jorge Guevara Larrotta, Britt Leysen
Jamessensor: Julien Menten, Toon Raskin, Andres Vergauwen, Tom Verheirstraeten, Wouter Verthongen
KMSKAN: Marwane El Kchiri, Cemil Keskin, Emre Kursun, Mohamed-Amin Malki, RecepTayyip Yildirimer
Locators: Elise Boes, Seppe Clottemans, Wienert Gillijns, Axelle Vanden Eynde, Sarah Verbelen
Proximity: Jan-Baptist De Bondt, Maxime Engels, Chiel Habils, Noah Van Brabant, Tim Willaert
Quiz: Shi Ji, Cyril Passeleur, Kelly Peeters, Adam Weir
Coaches Erasmushogeschool Brussel: Joni De Borger, Selim Edeer, Johan van den Broek, Kobe Vermeire
Feedback team interpretatie KMSKA: Joanna Smits