In 1520 Albrecht Dürer (1471–1528) set off from Nuremberg to attend Charles V's coronation as Holy Roman Emperor in Aachen. He was hoping for an audience, as he was still owed a salary by the new emperor's late grandfather, Maximilian I of Austria. The expedition did not end in Aachen, though. With his surprisingly modern sense of marketing, the artist decided to travel onwards to Antwerp, Europe's most important commercial metropolis at the time and very much the place to be for an artist looking to network and to expand his market. Dürer also used the expedition to seek inspiration from colleagues and from tourist excursions. He ended up living in Antwerp for precisely 11 months, from 2 August 1520 to 2 July 1521.
Tight-fisted
Dürer kept a travel journal, in which he noted down when he bought new socks, for instance, or incurred other expenses. It turns out that the great man was a little tight-fisted... But his journal also informs us about whom he met in Antwerp, among them the famous artists Quinten Massys, Bernard van Orley and Lucas van Leyden.
Joachim Patinir invited Dürer to his studio and also to his wedding. Dürer called him der gut Landschaftsmaler ('the good landscape paper'), the first recorded reference to 'landscape painting'.
Procession in words and images
On Sunday 19 August 1520, the German attended the annual Procession of Our Lady in Antwerp. His journal includes a detailed description of the crowds, the festive mood, the fine costumes and the decorative floats.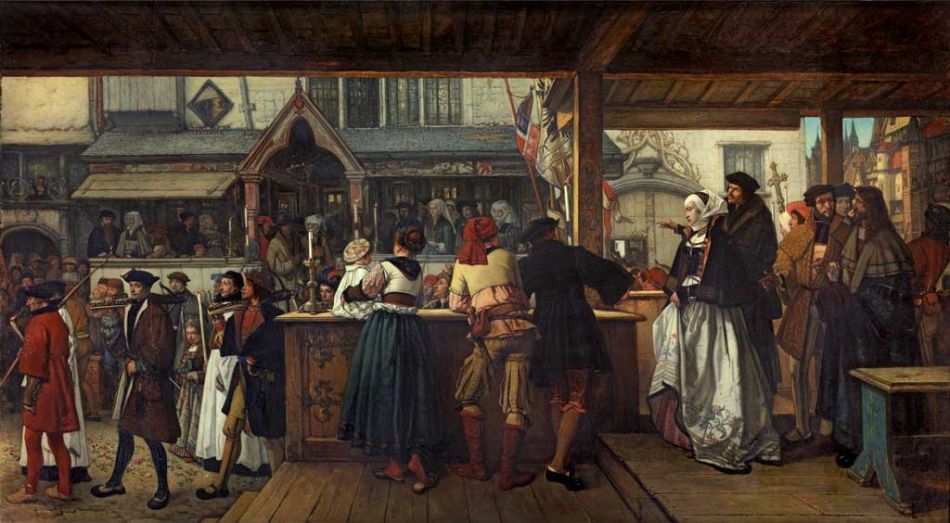 Three centuries later, his notes on the procession inspired Henri Leys (1815–1869) to paint Albrecht Dürer's Visit to Antwerp. Beneath the awning of the Engelenborch building on Wolstraat, we join Dürer as he watches the guild of archers parading past. Leys represented the scene colourfully and in detail. A crowd of people have turned out to see the procession, yet the scene is restrained and serious. Gestures are controlled and if anything silence seems to reign.
There is barely any difference here between the principal and the secondary elements, giving this historical scene the air of a snapshot, which is why it seems so authentic. Despite the title, we have to look carefully to find Dürer, who appears on the far-right side in the shadows.
Leys allowed himself a degree of historical licence: Quinten Massys stands next to Dürer and Erasmus next to Agnes Frey, even though neither gentlemen was present at the procession (nor the lady, for that matter).
Patriotism
Art in the 19th century helped shape the image of the many new states and nations. Paintings and sculpture represented illustrious episodes from the national past, while historical heroes and celebrated artists were fêted like movie stars.
The KMSKA collection includes other works of art too that were inspired by Dürer's tour of the Low Countries. Joseph Lies (1821–1865) had Dürer sail down the Rhine from Nuremberg to Cologne en route for Antwerp (inv. 1100). Together with Leys' work, his picture offers a key to Dürer's early reception within the Belgian School.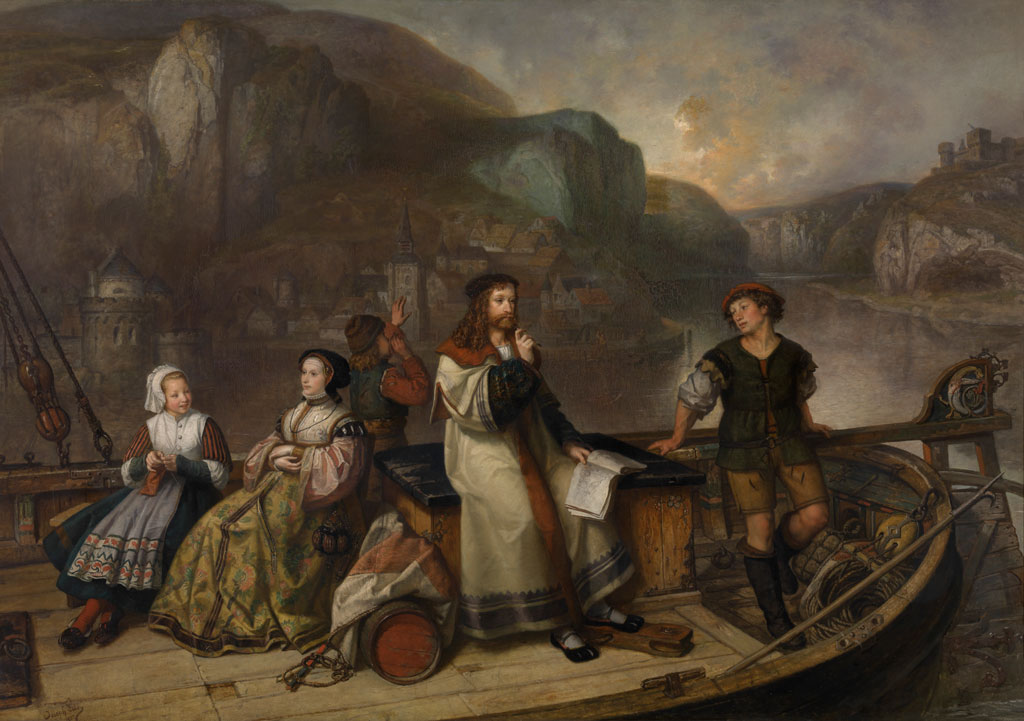 Although Albrecht Dürer was not a home-grown artist, 19th-century nostalgia for Antwerp's golden age was an expression of patriotism in the young Belgian nation.